Guide to Fun Guanacaste Costa Rica Water Sports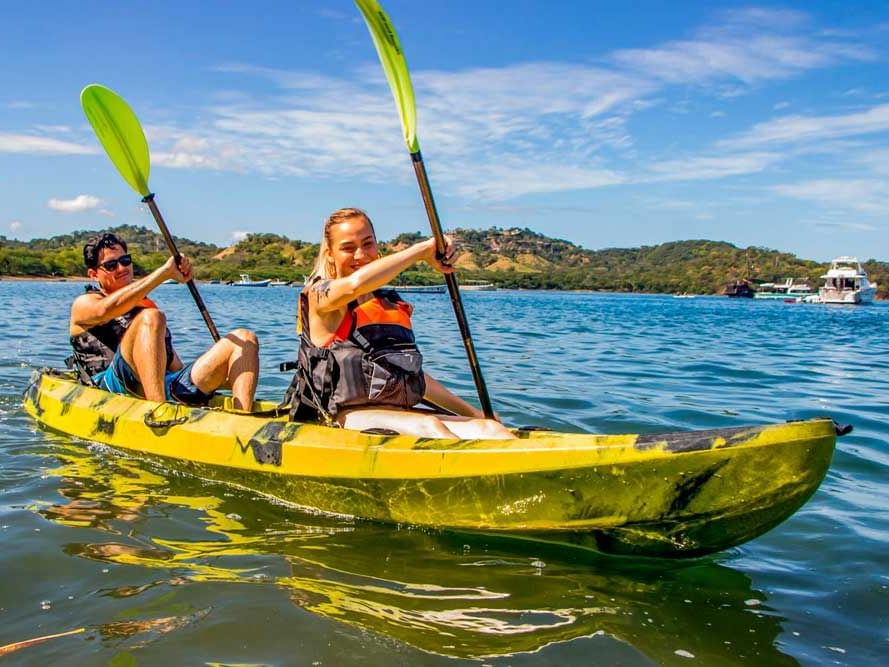 While Guanacaste boasts some of the best beaches in Costa Rica, it also offers the best conditions to learn or perfect the fun water sports under the tropical sun. With its long stretch of coastline, Guanacaste has coves, inlets, gulfs, and bays as well as long, white-sand beaches that set the scene for a variety of water sports. It is no wonder Guanacaste is a favorite beach vacation destination. Let's get out onto the water and have some fun!
One of the many great aspects that makes Guanacaste such a great beach destination is that there are so many different beaches to choose from, thanks to its irregular coast. While you find lots of long beaches, many are cuddled into protected bays and gulfs like the Gulf of Papagayo where Papagayo Golden Palms Beachfront Hotel is ideally located. These beaches are not only pretty, but they are perfect for swimming, kayaking, and SUP as the waves are small creating a pool-like body of water.
Other beaches face the wide ocean directly, and have some of the best surfing waves in Costa Rica. Dotted along the Guanacaste coast, you will find surfing towns and communities that embrace beach life, and welcome amateurs and pros with open arms. Globetrotting surfers visit the Guanacaste and Costa Rican beaches thanks to the great waves, breaks, curls, and swells.
Time for some fun on the water!
Kayaking
A favorite water sport is getting out in a kayak, where you are in charge of where you go and at which speed you cruise. It is also a fabulous workout that is not a bad thing when you have enjoyed the refreshing, tropical cocktails, and delicious Costa Rican cuisine during your dream vacation!
Sea kayaking is best done in small bays or protected areas, where the water is calmer and less exposed to strong currents, wind, and choppy waves. Welcome to the Culebra Bay and the Gulf of Papagayo the destination that fits the ideal sea kayaking conditions!
Papagayo Golden Palms has kayaks available for rent during your stay. Sitting right on Panama Beach, your kayak adventure is just steps away from the hotel and the bay is perfect for a peaceful start to your sea kayaking adventure.
Surfing
Surfing is big in Guanacaste and in Costa Rica as a whole. With both the Caribbean and the Pacific coasts, great surfing spots can be enjoyed on either side of this beautiful country. Guanacaste is one of these privileged spots for riding the waves so let's go surfing.
Tamarindo is not only a very vibrant and bustling town but also a surfer's paradise making it a sure stop for the wave riders of the world. Further south of Tamarindo, you will find other great surf spots, albeit not so well known as "Tama". Negra Beach, Guiones, Avellana are also worth a visit if you are a keen surfer.
North of Papagayo Golden Palms is the Santa Rosa National Park that is home to one of the eager surfers' favorite spots. You will need to take a boat to get to Witch's Rock but according to all reports, it is well worth the ride. Strong offshore winds make long lefts and rights! Ask at the Papagayo Golden Palms tour desk to reserve your spot!
SUP
Stand Up Paddling is another fun water sport to enjoy during your stay at Guanacaste and Papagayo Golden Palms. Just as kayaking, SUP is best done in calmer waters, so those bays and gulfs come in handy to keep your balance and row far and wide, steering as you go.
This is the ultimate water workout and so much more fun to conquer. But once you have mastered the art of SUP, the ocean is the limit to exploring the coastal inlets or just enjoying the enormity of the sea around you. After you spend a while standing up, kneel down and row, or just lie on the board for a while, and go with the flow of the tides.
Papagayo Golden Palms has SUP available for rent during your stay and Panama Beach is perfect to try this challenging yet very fun water sport, so have a try. You will love it!
Fishing
Guanacaste Costa Rica is a hotspot for inshore and offshore fishing, so angler enthusiasts, come prepared, for some great fishing during your stay. Mahi Mahi, Roosterfish, Snappers, and Yellowfin Tuna are just a start to wetting your fishing appetite and putting your angling skills to the test.
Guanacaste has a number of fishing companies with very experienced Captains and crews that know these waters like the back of their hands. They will take you to the fishing hotspots and very rarely will you come back to shore empty-handed or without a good story to tell about catching that sailfish before releasing it.
Snorkeling
While the previous four water sports are all above sea level (if you don't fall in of course!), snorkeling opens up the fascinating world below, and what a colorful and vibrant world it is! Guanacaste has a number of good snorkeling spots that you can explore during your stay so get your mask and fins on and let's go.
Good news for guests at Papagayo Golden Palms too, as there are some great snorkeling spots nearby. While Guanacaste doesn't have coral reefs, they have some great rock reefs that are home and a safe haven for small reef fish and of course those magnificent star fish.
Hermosa Beach and the Papagayo Peninsula are popular snorkeling spots, and they are not far from Papagayo Golden Palms, so snorkeling is an easy water sport to do during your stay. Hermosa beach is just down the road, or around the headland and the Papagayo Peninsula is across the bay, so you are in the snorkeling prime zone!
Guanacaste Costa Rica has over 200 kms of coastline and its potential for water sports and adventures on the seas is endless. Add the tropical sun and proximity to a number of activity-filled beaches, and Guanacaste becomes a really fun destination for water sports.
Papagayo Golden Palms Beach Front Hotel invites you to enjoy the fun of water sports in Guanacaste Costa Rica! Choose from kayaking, SUP just outside your suite on the inviting Panama Beach, snorkeling just around the head, while fishing and surfing are just a tour away. Fill your days with the tropical sun while discovering the wonders of the Guanacaste coast. See you on the water!