The Perfect Honeymoon in Guanacaste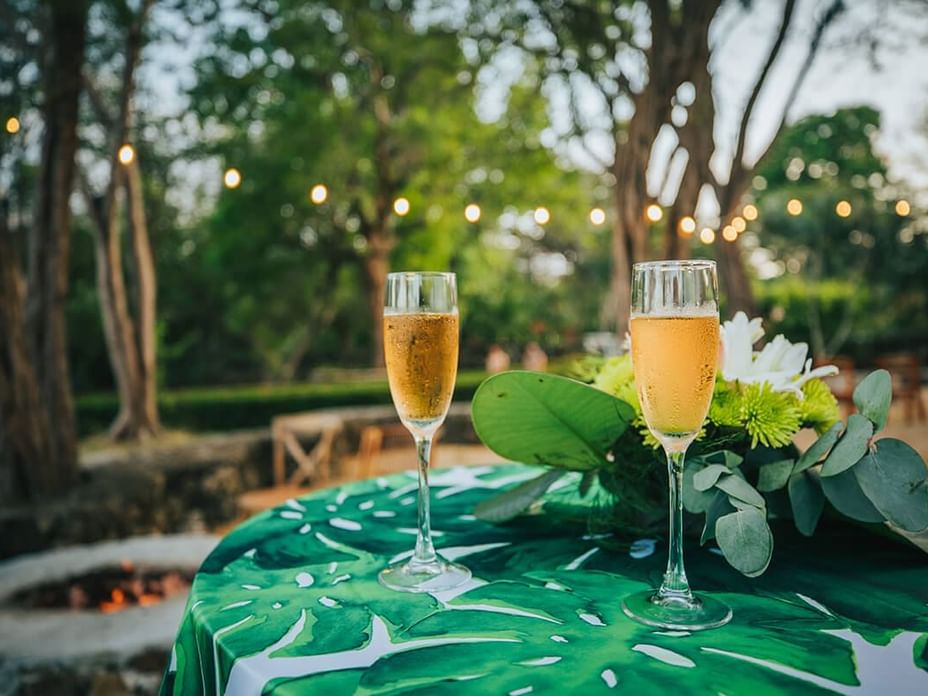 Are you considering a tropical wedding or honeymoon destination? We´ve found the perfect spot – Papagayo Golden Palms Oceanfront Hotel & Villas on the sunny Panama Beach, Guanacaste, Costa Rica.
Guanacaste is Costa Rica´s golden coast and has an ever-growing community of fans that enjoy family vacations, summer getaways, couples' escapes, weddings, and honeymoons. With its white-sand beaches, pristine, blue waters, and beach resorts, like Papagayo Golden Palms Oceanfront Hotel & Villas, nature adventures galore, Guanacaste is for lovers.
Thanks to the love it generates and its beauty, Guanacaste has become a wedding and honeymoon destination. So we invite you to picture it. Lush, green palm trees, splashes of colorful tropical gardens, the sounds of the waves hugging the sand, and the symphony of hues in the sky as the shadows lengthen in preparation for the citrus-orange sunset.
This beautiful image is the backdrop to your celebration of love o the beginning of your post-wedding rush in the form of a relaxing, beachside honeymoon. Welcome to Guanacaste, a paradise for weddings and oneymoons. All that is missing are the rings, the vows, and the "I do´s."
Many couples combine their tropical wedding and honeymoon destination into one big party with family and friends. Others prefer a more intimate affair with just their closest family and friends.
Whatever your wedding wishes, Guanacaste and Costa Rica are beautiful places to get your marriage off to a great start, whether pre-wedding or from the honeymoon onwards.
Marriages legally conducted in Costa Rica are valid worldwide. Same-sex marriage came into effect in May 2021. To make it easier, couples will legally marry in their own country and have their spiritual and personal ceremony in Costa Rica. How you marry is your decision, and Costa Rica can make it happen smoothly and elegantly.
Papagayo is the perfect backdrop for a romantic wedding in Guanacaste. The wide, white-sand beaches, lush vegetation, and spectacular sunsets set a fantastic stage for your fairy-tale moment. So let´s close our eyes and picture the wedding on a paradise beach under a picture-perfect sunset sky, torch-lit tropical gardens, and balmy evenings. The honeymoon will be filled with intimate candlelight dinners, days full of adventure and relaxation, luxury lodging, and personalized service. This is Guanacaste lovers!
Love you to the beach and back
For the beach-lovers, Guanacaste is a dream come true. After a spectacular beach wedding, it is time to discover more of the beautiful beaches that embrace the coast of the Nicoya Peninsula. There are surf beaches, there are swimming beaches, there are bay beaches, and there are open-sea beaches.
Papagayo Golden Palms sits on Panama Beach in the Gulf of Papagayo, Costa Rica´s premier beach destination. Boasting calm, welcoming waters, spectacular sunsets, and sun-kissed days, you won´t have to go too far from the beach to get married or enjoy leisurely while on your honeymoon.
While Playa Panama is perfect for kayaking and SUP, other beaches are ideal for surfing if your honeymoon includes some waves or couple goals. So, whether you are a seasoned surfer or need a class or two, Santa Teresa Beach, Tamarindo Beach, and Avellanas Beach may be part of your love for the beach.
Love is as fiery as a volcano
While Guanacaste may be best known for its beautiful beaches, it is also home to some live volcanoes, bringing fire to a honeymoon. The Guanacaste Volcanic Mountain Range runs along the northern Guanacaste border and is filled with live, extinct, and dormant volcanoes. This translates to an adventurous honeymoon in nature where adrenaline and thrills are part of the fun.
Rincon de la Vieja Volcano is the most visited of the live mountains. Its crater and surrounds are protected by a national park of the same name. It has a variety of trails that will take you by fumaroles, boiling mud pools and steam holes, waterfalls, and different forests that thrive in the altitudes.
The volcano´s slopes are also home to adventure parks, spas, and close-to-nature tours that make for a fun day during your honeymoon. For example, Papagayo Golden Palms can organize a tour so that you can zipline through the forest canopy, tube down a river, rappel down a canyon wall, horseback ride through forest and farmland, and lots more. After a few days of relaxing by the pool, a bit of honeymoon adrenaline in nature is an exciting change of pace.
Papagayo Golden Palms and its event management team can take charge of all the details of your wedding and honeymoon in Guanacaste and create the perfect day for you and your guests. So come to Guanacaste and have the wedding day and honeymoon you´ve always dreamed about!