Top Family Adventure Activities in Guanacaste Costa Rica!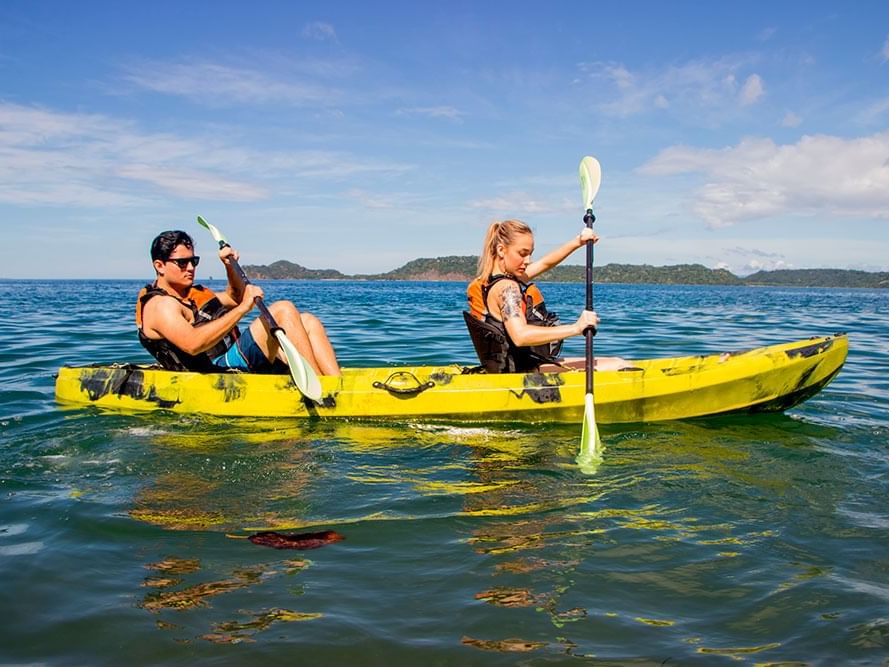 There is nothing better than a family destination where the possibilities for adventure are as varied as the personalities of each member of the clan. Beaches, volcanoes, forests, mountains, water activities, gastronomy, and culture in one place are not easy to find. Well, we have that place and not only is it perfect for families, but it is also extremely beautiful. Let's take a road trip to discover top adventure activities in Guanacaste Costa Rica for families! This journey will be full of fun and thrills!
So, where is Guanacaste you may ask?
Guanacaste is located on the northern Pacific coast of adventure-rich Costa Rica. Better still is that it boasts its own international airport so you can jump-start your family vacation very easily with a flight from most of the major USA airports and be on the ground in no time.
Then, you are just a 20-minute drive from Papagayo Golden Palms Hotel, the best beachfront hotel in Guanacaste for families. Spacious family-friendly suites, a welcoming pool area for all ages, just a few steps away from Panama Beach and located in the Papagayo Gulf, Costa Rica´s premium beach destination, are just the beginning of your adventure-filled family vacations in Guanacaste.
Guanacaste is beaches!
A family-friendly adventure is always a good one when there is a white-sand beach, a refreshing ocean, and the wide-open sea to enjoy a range of fun water activities for all ages. Guanacaste is dotted with lots of beautiful beaches so, during your family vacation in Costa Rica, you can include some beach hopping to try lots of different water-based activities, all under the tropical sun of Guanacaste.
Snorkeling is always a fun activity for all ages especially when a catamaran takes you around the coast to the best snorkeling spots in the area. Spend your day relaxing on a catamaran, having a swim off deserted beaches, and checking out the ocean underworld to delight your senses!
Another adventure day for the family is taking a surf lesson! Costa Rica is world-famous for its great breaks, and surfing hotspots can be found all along the Guanacaste coast. With such great surfing spots, comes excellent surfing schools, so make this a family goal and try those Guanacaste waves on your board. This is fantastic family fun!
Why not conquer the seas in a kayak or on a SUP? Papagayo Golden Palms has its own fleet of water adventure crafts where you are the captain of your ship. Take the family out on kayaks to explore the Gulf of Papagayo or master the art of paddling while standing. The sense of achievement is a boost for all ages and can be enjoyed by the family as a whole.
They are also great ways to see marine wildlife making Guanacaste that much more beautiful and exciting. This means a day on the water will be unforgettable for all the family whether you are doing the paddling or not!
Guanacaste is walks
Guanacaste is very diverse in its ecosystems and landscapes, many of which are protected in national parks and nature reserves. This means, there are lots of hikes and walks that the family can do together for a day of nature immersion.
Whether the family decides to explore the dry tropical forest, or venture up into the Guanacaste Volcanic Mountain Range, a walk through nature is always an opportunity to see lots of wildlife and explore new places. A favorite for all the family is a visit to the Rincon de la Vieja Volcano!
Whether you decide to go to the national park and observe the volcanic mud pools, fumaroles, waterfalls, primary dry tropical forest, and beautiful views, Rincon de la Vieja Volcano is truly alive and likes to remind us of this once in a while. This is an easy walk that is made all the more exciting by the fact that the crater is not far up from where you are walking.
Guanacaste is wildlife
An absolute favorite for all the family is seeing lots of animals in their natural habitat. Wildlife spotting is a Costa Rican trademark activity and will get lots of cheers as excitement levels will soar from all the family members.
Some of the Guanacaste residents that are very commonly heard and then seen are the Howler Monkeys! They are Costa Rica´s morning wake-up alarms and a unique start to your day of adventure. They can be seen readily at the start and the finish of the day too so stay tuned. Let's just say, they are loud and even more so as they travel in troupes.
Guanacaste is also home to the white-faced monkeys and the more elusive spider monkey too. And, let's not forget the raccoons, armadillos, deers, coatis, crocodiles, and the iconic sloths just to name a few.
Why so many animals? Well, Costa Rica is home to around 4% of the world's animal species so come prepared to see lots of wildlife from the smallest lizard to the diversity of exotic birds and mammals. Wildlife watching is definitely a family favorite!
Guanacaste is thrills
Guanacaste is a land of thrills in nature! One of Costa Rica's favorite thrill rides is ziplining! If there is one family adventure that is an absolute must while in Guanacaste, it is to harness up and fly through the forest canopy. This will become a sure favorite for the kids and adults, and will be remembered and talked about for a long time after.
With the utmost safety measures, ziplining in Costa Rica can be adapted to just about all ages but with the same end result. A true adventure experience where the thrill of the ride and the adrenaline rush is fantastically fun, and you will want to try it again. The great thing is that there are lots of zip lines to choose from and each one is unique, so the sky's the limit!
Once the family ziplining adventure is achieved, why not try tubing down a river, horseback riding, relaxing in some volcanic thermal springs, or covering yourself in volcanic mud! You see, Guanacaste has an adventure activity for all ages, likes, and loves! And when enjoyed and experienced in family, it makes the thrill of the adventure all the more memorable!
Papagayo Golden Palms is the perfect starting point for your family adventure vacation in Guanacaste! After a day at the beach, on the water, in the mountain, or the forest canopy, a beachfront hotel that is perfect for families, is the perfect beginning and ending to your day of fun and thrills in Guanacaste!