Tracking and Trekking the Majestic Guanacaste Volcanoes!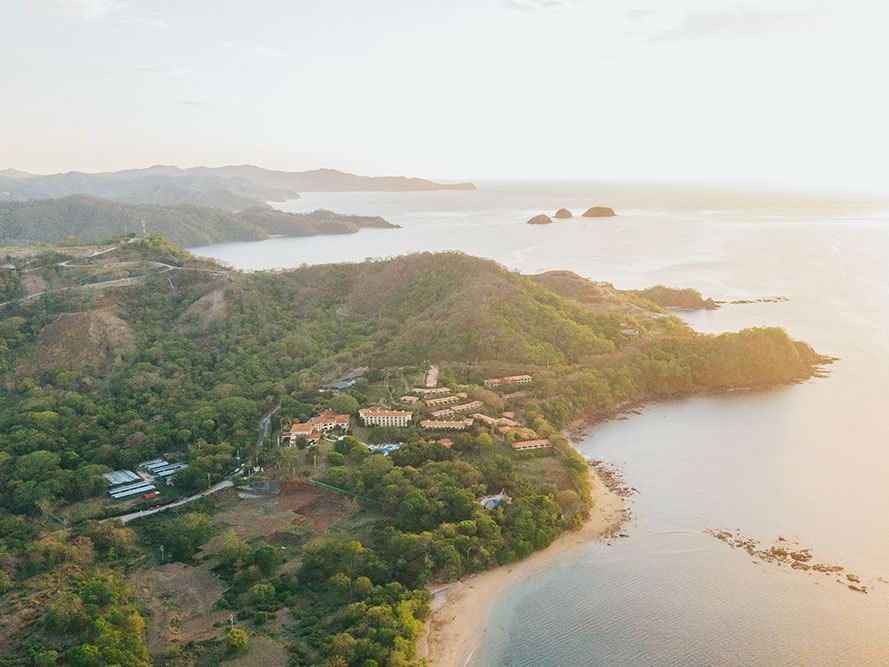 Guanacaste is a land of beautiful contrasts which creates the perfect vacation destination as there is a favorite place for everyone. Whether you are a beach-lover, a mountain climber, a water wanderer, or a volcano enthusiast, Guanacaste has an unforgettable adventure experience for you! While much of Guanacaste is covered with sweeping savannas and bordered by white-sand beaches, it also boasts some pretty impressive volcanoes. Tracking and trekking the majestic Guanacaste volcanoes!
Guanacaste is Costa Rica's northern province and it sits on part of the Nicoya Peninsula famous for being a Blue Zone, a surfer's paradise, its sunny days, and rich agricultural laden pampas. It is also serviced by the Guanacaste International Airport with direct flights from the USA's major hubs, so escaping the white winter to the warmth of the Guanacaste tropics, is just a plane away. The best beachfront hotel in Guanacaste is an easy 20 minutes from the airport too. The Papagayo Golden Palms is just steps away from the beach, and is the perfect escape to relax and explore Guanacaste and its volcanoes!
Where are the Guanacaste volcanoes?
Guanacaste actually has its own volcanic mountain range! It runs down the northern border of the province and is an impressive part of the landscape that can be enjoyed from much of the peninsula. In fact, it is part of America's Continental Divide that starts away up north in Alaska and ends on the far southern tip of South America.
This small portion of the great divide extends about 70 miles (110 kms) from the northwestern corner of Costa Rica, towards the southeast connecting with Costa Rica's other mountain and volcanic ranges. They say Costa Rica has over 200 identified volcanoes and 5 of those make up the Guanacaste volcanoes.
Which volcanoes are they?
The Guanacaste Volcanoes include:
Orosi
Rincon de la Vieja
Tenorio
Miravalles
Arenal
Each of the volcanoes is unique, and three of them offer different tourism opportunities, so bring your adrenaline stock to Guanacaste as some of these volcanoes are full of adventure and close-to-nature experiences.
The great news is that from Papagayo Golden Palms Oceanfront Hotel you can visit them pretty easily. This means your Guanacaste vacation can include, not only the beauty and relaxation of the amazing beaches, but also the adventure on the volcanoes that come in various exciting forms.
What can I do and see at the Rincon de la Vieja Volcano?
Rincon de la Vieja Volcano is one of Costa Rica's most visited, and could well be the most adventure-packed too. This active giant is a thrill-seekers paradise, and can be visited for the day from Papagayo Golden Palms, which makes it all the better!
A visit to the Rincon de la Vieja National Park will include an easy walk to viewing decks of the fumaroles, boiling mud baths, and getting a feel of the volcanic environment. Harder trails to hidden waterfalls and other treasures are available too.
The Rincon de la Vieja Volcano also gifts the adventure-spirited with adrenaline-rush and close-to-nature experiences that are the main attraction on its forest-laden slopes. Explore the forest from the canopy on a zipline, hop on a horse for a ride, sit in a tube while you coast down a river, slide down a rockface rappelling, cover yourself in volcanic mud and bathe in the relaxing, medicinal thermal springs, all courtesy of our beloved volcano.
Papagayo Golden Palms can organize your day of adventure on the volcano, one of its signature tours and all-around favorite. It is just an hour away so start your day early and enjoy this fantastic volcano that always hits the adventure mark.
What is Arenal Volcano all about?
Costa Rica and Volcanos are synonymous with adventure and Arenal Volcano is the perfect example of why. Adventure surrounds this impressive cone-shaped sleepy giant that is visually stunning and ever-present during your adventures in the surrounding rainforest.
Arenal Volcano is the southernmost volcano of the Guanacaste fivesome and sits apart from the others. Presently, it is in a quiet cycle after decades of throwing out red-hot boulders and lava flows to the excitement of its viewers. While the light and rock show has ceased temporarily, Arenal Volcano still has its charm and has become a Costa Rican icon!
Adventure goes hand in hand with the Arenal Volcano so come prepared for some extreme experiences in nature including hiking to waterfalls, white water rafting, hanging bridges, ziplining, water activities on the Arenal Lake, and of course, the hot springs. This is the relaxing reward provided by our Arenal Volcano. Soak in the warm mineral-rich thermal springs that can be found everywhere and a must-do while visiting this beautiful volcano.
Arenal Volcano can be visited from Papagayo Golden Palms. You will travel around the southern edge of the Guanacaste Volcanic Mountain range which is very picturesque and full of fantastic photo opportunities as well.
Is a visit to Tenorio Volcano worth it?
The Tenorio Volcano National Park not only is home to its volcano, but also to another Costa Rican iconic landmark, Blue River or Rio Celeste. This incredibly beautiful river is an amazing byproduct of the Tenorio Volcano in the form of a mystical turquoise-blue river, waterfall and lagoon nestled into the dense rainforest.
During the hike along the Blue River within the national park, you will have the chance to observe the Tenorio Volcano, but the main attraction here is the amazing blue, an optical illusion created by the volcanic taints that flow into the river, that are incredibly beautiful, nonetheless.
Tenorio Volcano's Blue River is also just a day's trip away from Papagayo Golden Palms and is a two hour drive around the southern edge of the Guanacaste Volcanic Mountain Range. While there is lots of green along the way, the color blue is what will stand out in your Tenorio Volcano memories.
Last but not least, Orosi and Miravalles. Can I visit them?
If you look for tours to Orosi and Miravalles Volcanoes, not much will come up. Orosi Volcano is actually dormant, and visitors usually come in the form of scientists, research volunteers and teachers rather than tourists seeking adventure. Protected within the Guanacaste National Park, the Orosi Volcano is part of a vital biological corridor that is home to a wide array of birds, mammals, and reptiles.
Miravalles Volcano is actually better known for its production of geo-thermal energy than for its tourist attractions. It is the highest mountain in the Guanacaste Volcanic Range reaching a notable 6650 ft (2025 mts) above sea level. This impressive volcano is part of Costa Rica's clean energy production that has meant this little green country has run on 98% renewable electricity sources for the past 7 years.
Our tracking and trekking of the majestic Guanacaste Volcanoes is one of Costa Rica's highlights. Volcanoes that are full of adventure, nature, incredible experiences and contrasts. While they are volcanoes, each of the five majestic giants offers a world of unique experiences. Which one will you visit first during your stay at Papagayo Golden Palms? We can't wait to be part of your Guanacaste Volcanoes adventure.